From Indoors to Outdoors: A Plant's Summer Adventure!
With the arrival of the sunny season, it's time to potentially unleash your indoor houseplants into the great outdoors for the summer. But wait, before you start carting your leafy companions outside, let's dive into the nitty-gritty details including the ins and outs of transitioning indoor houseplants to the great outdoors. From determining which plants are ready for the adventure to tips for a successful transition, we've got you covered. So, grab your gardening gloves and let's embark on a leafy summer adventure!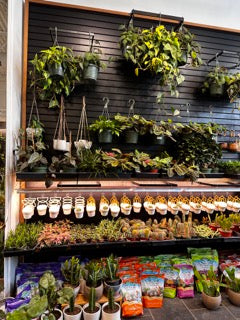 Is Your Plant Ready to Go Outside?
While all plants can technically go outside (it's where they go naturally to start!) not all plants can thrive outdoors based on your personally growing climate. So before we can begin our outdoor escapade, it's essential to assess which of your indoor houseplants are suited for the great outdoors.
Some plants thrive in the bright sunlight, while others prefer the cozy shade. Take note of your plant's sunlight requirements, as well as its resilience to temperature fluctuations. Remember, the sun outside is a lot stronger than sun through a window and most grow lights so when in doubt, less direct light is best to start.
The Pros and Cons
Let's weigh the pros and cons of introducing your houseplants to the wild world outside. Outdoor exposure can boost plant growth, increase humidity levels, general appeal and ward off pests naturally. On the flip side, unpredictable weather conditions, pests, and the risk of sunburn are factors to consider. It's like sending your plant on a summer vacation—there are perks, but also potential pitfalls.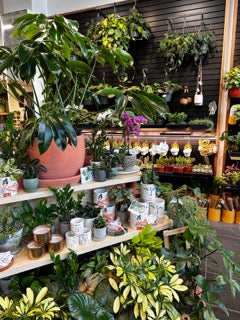 Walking Before Running: Transitioning with Care

To ensure a smooth transition, it's crucial to acclimate your plants gradually to their new outdoor environment. Start by placing them in a sheltered spot, like a porch or balcony, for a few hours each day. Gradually increase the exposure time over a couple of weeks. This gentle approach will help your plants adjust to the outdoor conditions without the shock of an abrupt change.
It's important to note outdoor temperature when transitioning plants outside. A general rule. of thumb is to only move your plants outside when the outdoor temperatures stay consistently above 50°F (60°F is safest) including at night. During the transition time, it is ok if temperatures fall below 50°F in the evening however bring the plants back in at night and back outside during the day when temps are more comfortable.
Watch Out for Red Flags: Signs of Stress
As your plants embark on their outdoor adventure, keep an eye out for signs of stress. Wilting, sunburned leaves, or an infestation of uninvited pests could indicate trouble. Be proactive and intervene when necessary. Move plants to a shadier spot or provide temporary shade using a patio umbrella. Remember, a vigilant plant parent is like a superhero with a green cape!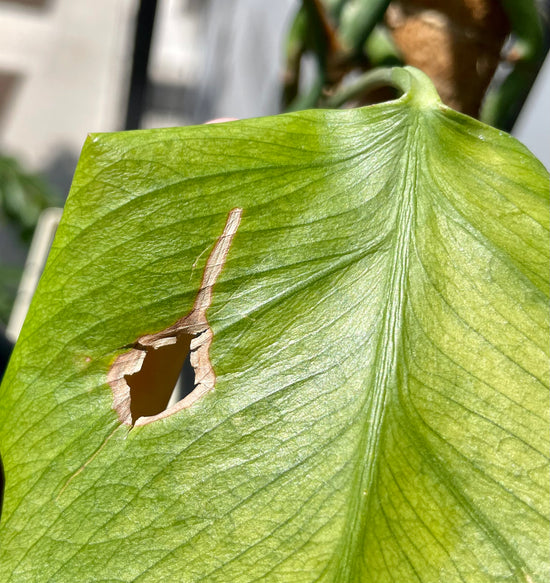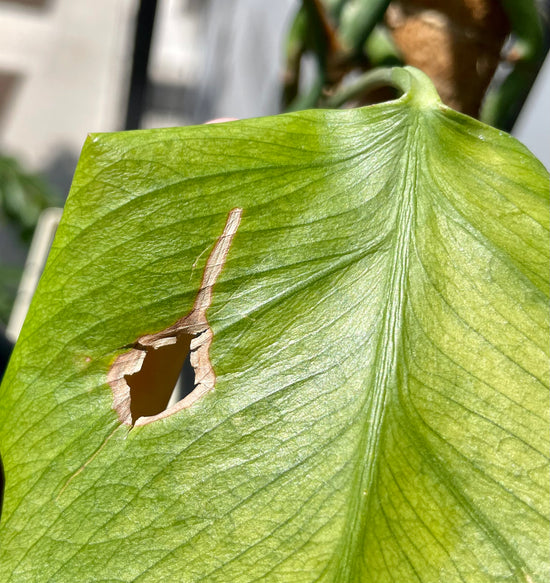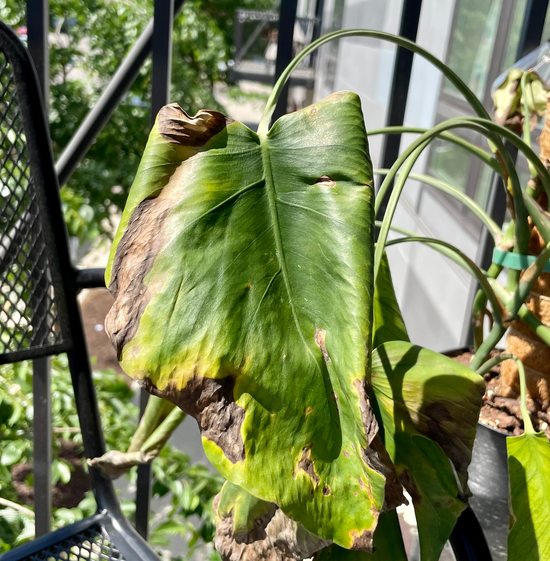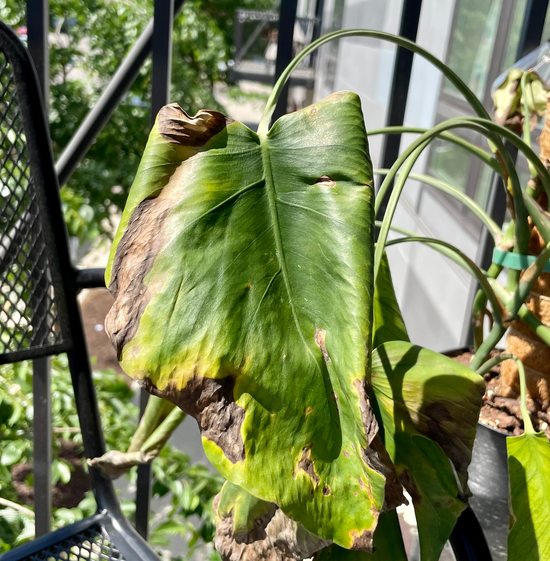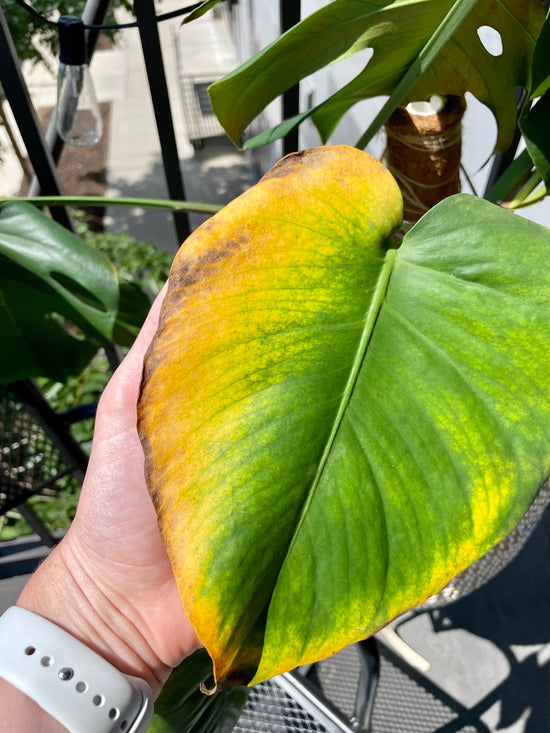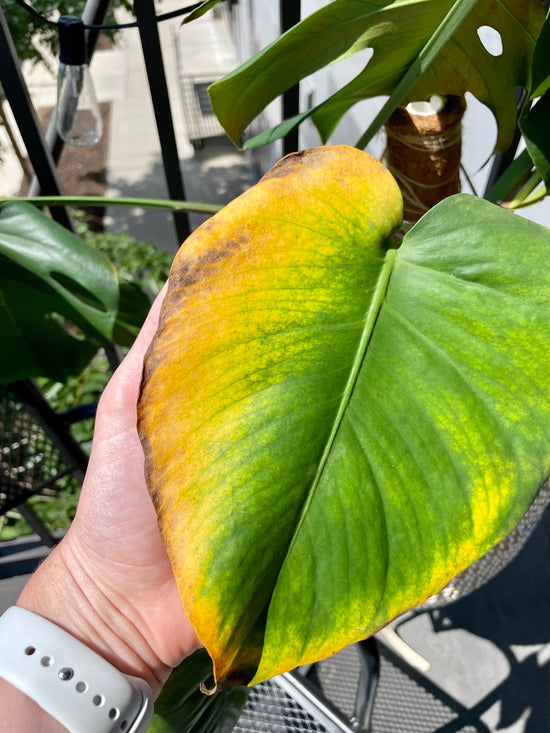 Signs of Stress
Sunburn
Even sun-loving plants can get burned by the sun so while it is not usually lethal to a plant, keep an eye out for bleached foliage and brown crispy spotting. To fix, move shade to a shadier area fully or during peak sun times in the day. Also know that it's OKAY to clip those burnt leaves off, your plant will bounce back!
Signs of Stress
Watering
Outdoor conditions can be drying, especially during the scorching summer months. Look for yellowing or wilting leaves as first sign of watering needs. Check soil conditions often until you learn how your plants react to any changes in weather. Adjust your watering routine accordingly, keeping in mind that potted plants may require more frequent watering if not the rainy season.
Signs of Stress
Pests
Is it only natural that when a plant is outside, bugs and animals may be attracted to them. While most are not deadly to the plant they can damage them. If you see signs of leaf eating, place at a high elevation. If pests/bugs are causing noticeable plant damage, try sprinkling cayenne pepper on soil or spray with natural pest repellent.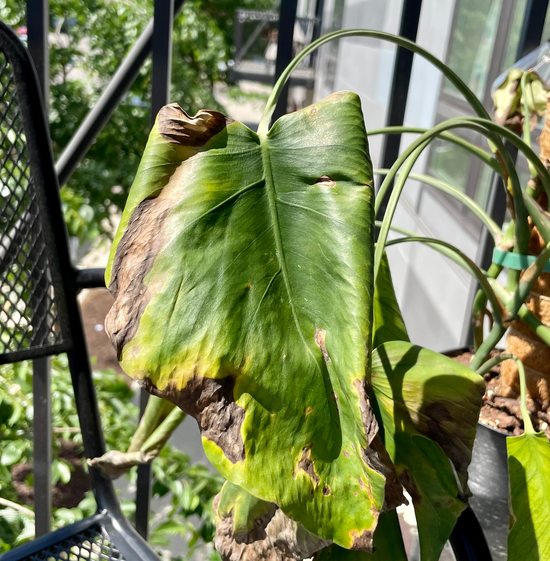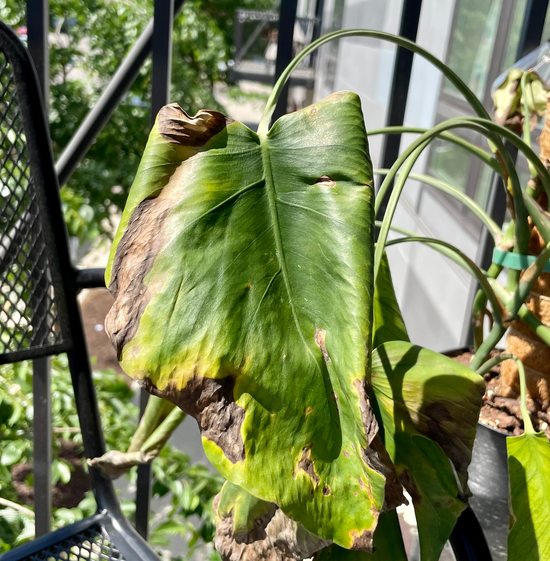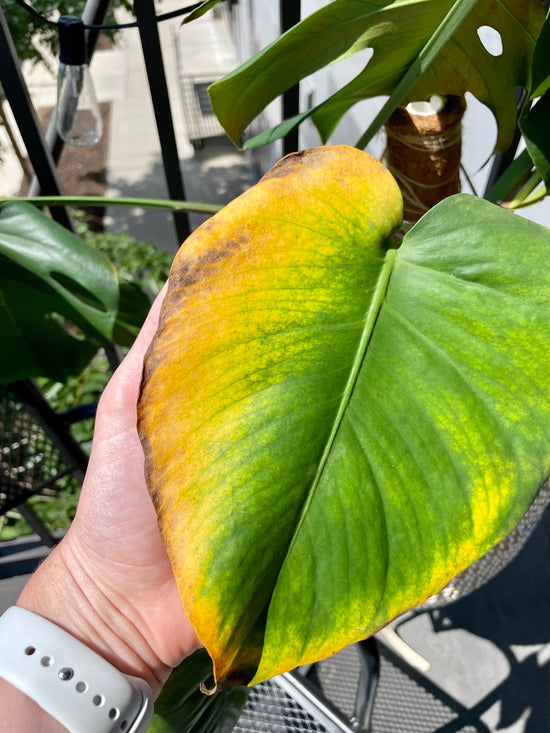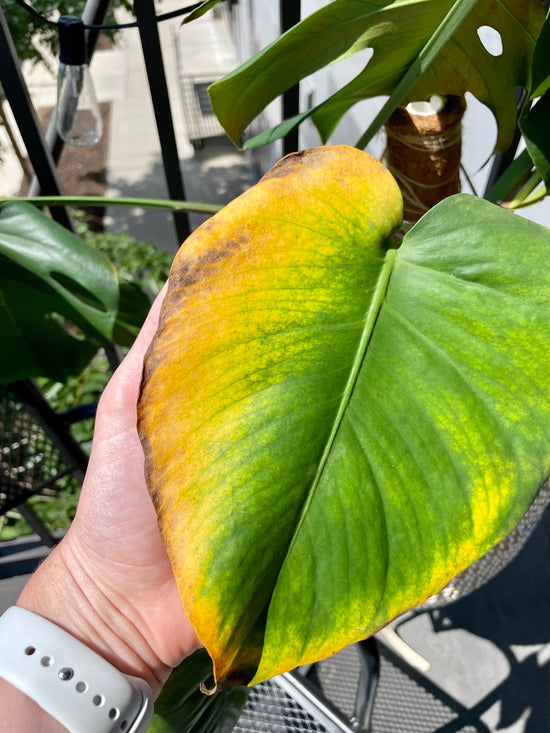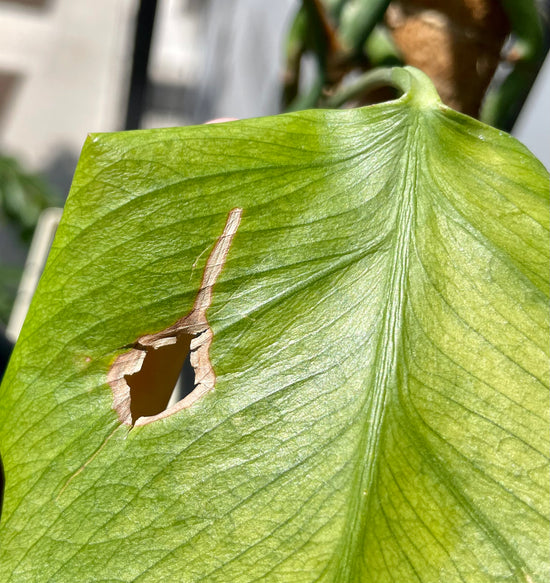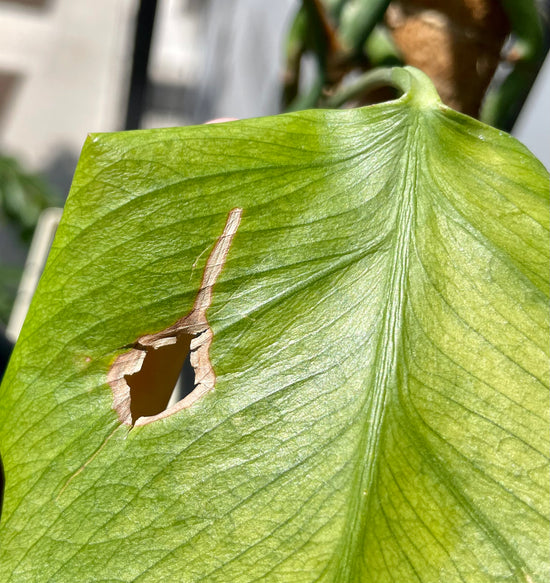 That's it for this week. Until next Tuesday...... GET LOST!
- LITF